This web page contains hail facts for kids and is a wonderful resource for anyone of any age researching hail. Our goal is to provide you with the latest and most accurate hail facts from scientific sources. In addition to hail facts, you'll find some crazy hail pictures and additional resources for researching hailstorms.
The hail facts listed below will help you learn about what hail is, how hail forms, damaged caused by historic hailstorms and other hail facts. We hope these facts about hail are helpful and help you learn more about this damaging meteorological event.
If any of the below hail facts are inaccurate, please contact us and let us know.
17 Hail Facts for Kids
Hail is frozen precipitation that has a diameter greater than ⅕ of an inch (5 millimeters).
Hail is produced during thunderstorms in cumulonimbus clouds.
Hail is created when a thunderstorm has an updraft that carries rain droplets up into the extremely cold areas of the Earth's upper atmosphere.
Hailstones can fall at speeds between 9 mph (14 km/h) and 110 mph (177 km/h).
The larger hailstones are the faster they fall.
Large hail sometimes precedes a tornado since the conditions to produce large hail are the same to produce a tornado. However, tornadoes can and do form without any hail being present.
An area in the United States known as hail alley is where hailstorms are most common.
The area where Colorado, Nebraska and Wyoming meet is widely considered hail alley.
Damage from powerful hailstorms can reach billions of dollars.
A hailstorm that hit St. Louis, Missouri on April 28th, 2012, caused $1.6 billion in damages.
A hailstorm that hit the Denver Metro area on May 8th, 2017, caused $2.3 billion in damages.
A hailstorm that hit the Dallas Metro area on March 24th, 2019, caused $1.4 billion in damages.
A hail cannon is a device used to create a shockwave that attempts to disrupt the formation of hailstones. There is no scientific evidence that proves hail cannons are effective at disrupting hail formation.
Kericho, Kenya in Africa experiences more hailstorms than any other city in the world. Kericho has an average of 50 days of hail per year.
The world record for the heaviest hailstone was set on April 14th, 1986, in Bangladesh (Gopalganj District), weighing 2.25 pounds (1.02 kilograms).
The world record for the hailstone with the largest diameter was set on July 23rd, 2010, in Vivian, South Dakota. Its diameter was 7.9 inches (20 centimeters), with a circumference of 18.622 inches (47.3 centimeters).
The world record for a hailstone with the largest circumference was set on June 22nd, 2003, in Aurora, Nebraska. Its circumference was 18.622 inches (47.6 centimeters), with a diameter was 7.0 inches (17.8 centimeters).
Hail Pictures
A diagram showing how hail forms during a thunderstorm. An updraft pushes moisture into the upper atmosphere where it freezes.Photo Credit: Tyler Williams
A photo of someone holding three massive hail stones from a hailstorm. These hailstones are about the size of a baseball.Photo Credit: KOAA 5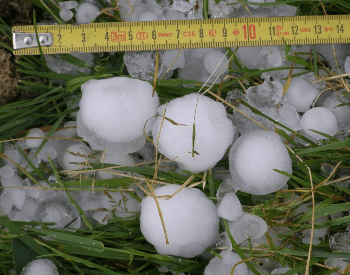 A photo of someone holding a tape measure next to three large hailstones. These hailstones the size of a golf ball.Photo Credit: Bart Veltkamp
A photo of the damage caused by a hailstorm to American Airlines flight 1897 on June 4th, 2018.Photo Credit: Holly Rush
A photo of a house that was damaged by a massive hailstorm. The windows, roof, siding and fence had major damage.Photo Credit: Daniel J. Smith
A photo of a car that was damaged by hail from a thunderstorm. This car was totaled by the insurance company.Photo Credit: Paintless Dent Removal
Additional Resources for Hail Research