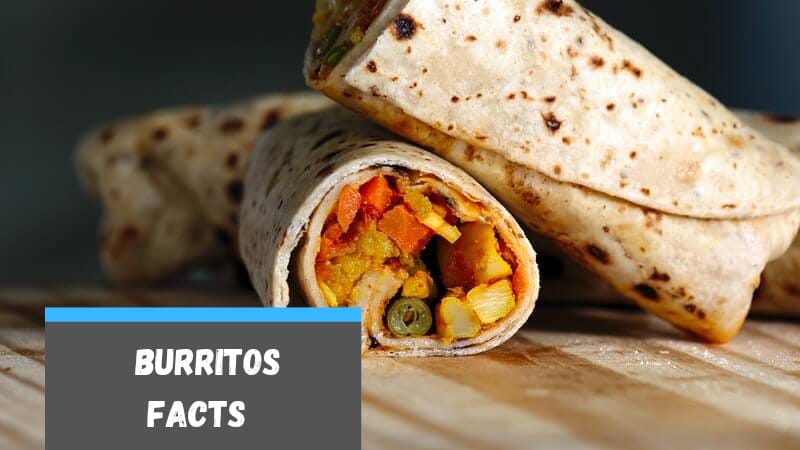 Are you a fan of Mexican food? Have you ever tried a burrito? If not, you're in for a treat! Burritos are made up of a flour tortilla filled with meat, cheese, vegetables, and rice. They can be either grilled or fried. Here are some fun facts about burritos that you may not know.
Do you love Mexican food? If you can't control your mouth from watering while speaking of Mexican food, I wonder what burritos do to you!
One of the most delightful dishes of Mexican origin is the Burrito. It is made of tortillas and various stuffings like beans, shrimp, eggs, salsa, chicken, guacamole, and many more.
This was general information. But do you know, your favorite humble old Burrito has got facts manyfold in its rolls?
Are you genuinely curious to know more about burritos? This article will share Fun Facts about Burritos with you.
Please give it a go!
12 Fun Facts about Burritos
1. The invention of Burritos can be traced long back to the 1500s. The Maya civilization of Mexico had its version of food. They used to have corn tortillas and used tomatoes, pepper, and various other veggies as the stuffing.
2. Your favorite Mexican food happens to have a Spanish nomenclature!
The term burrito is derived from Spanish origins, which means little donkey! Some people say that the name has been given because burritos contain a lot of different things, just like a donkey carries. Hence, the term has been set.
3. There goes a folk history of burritos. During the Mexican revolution (1910-21, to be exact), a man named Juan Méndez sold tacos in the Bella Vista neighborhood. He used to have a donkey to carry himself and the food.
Méndez used to wrap the food in homemade flour tortillas to keep it warm. As the food for the Burrito (little donkey's food) became popular, the name for this Mexican dish was changed to Burrito.
4. The Oxford English Dictionary is quite famous. It has much to contribute to the recognition of a particular term or word. It was 1958 when people saw the word appearing in the book for the first time.
5. There are many variations of Burritos within Mexico. The state of Chihuahua serves its burritos thin, small, and with sour cream. The tortillas there are generally flour made.
Central and Southern Mexico call it 'tacos de harina.' This means wheat flour tacos. You probably have guessed what might be the reason behind the name. It is because they use wheat flour tortillas.
The thin, long, fried versions served in Sonora are called Chivichangas.
6. The biggest Burrito was made by Canirac La Paz in La Paz, Mexico, in November 2010. They made it with a single tortilla, refried beans, fish, stew, and onion. It weighed an incredible 12,785.57 lbs: that is 5,799.44 kg. Three thousand workers and fifty food junctions partook in making this Burrito. A unique machine was made to set up this Burrito.
It took the workers nine and a half hours to roll the humongous Burrito that measured the length of 2.4 km approx.
7. It was in 1930 that the American food world saw the rise of this famous mouthwatering dish. And that too in LA. El Cholo Spanish Café of Los Angeles featured Burrito for the first time in America. Also, if you focus on the present time burritos, none stands in front of California's staple mission burrito.
8. Tia Sophia's in Santa Fe, the Mexica cafe in New Mexico, first brought the breakfast burritos into the world. It was invented in 1975 when a tortilla was rolled with all the traditional breakfast particles, namely, bacon, egg, potato, and cheese. Initially, breakfast burritos were served, all smothered.
It became so popular among people that mainstream food chains like McDonald's and Sonic brought this into their course.
9.The California burrito rules the world; it is prepared with beef or chicken marinated with Mexican flavors. The expansion of crunchy French fries takes the Mexican dish to a level that's unheard of.
Roberto's Taco Shop is viewed as the mastermind behind the expansion of French fries during the 1980s. Rumors go in one form or another that a neighborhood surfer proposed adding French fries into a burrito to make the dish heartier.
10. The Burrito Suizo is basically the wet version of burritos. This version was invented in California in 1970. Suizo roughly means swiss.
This Burrito is made with traditional items like tomatoes, sour cream, meat, cheese, rice, and lettuce, and it is smothered with melted cheese and red and green chili sauce.
11. Your favorite Mexican dish has a day entitled to it. National Burrito Day is celebrated on the first Thursday of April. On that day, many food junctions give huge discounts on burritos.
12. Burritos and tacos have often been mistaken to be the same. However, they vary from each other in numerous ways. Tacos are made from a delicate corn tortilla, while burritos are produced using a huge flour one. This reality makes tacos a light bite. Since burritos are heavier and bigger in size, they are filled in as a legitimate lunch or supper.
Conclusion:
Undoubtedly, there is nothing more tempting than a hot chipotle Burrito. Foodies from different parts of the world enjoy this dish a lot. Leah Shutkever, the competitive eater from the UK, made an official Guinness world record of eating a giant burrito in just 44.20 seconds! In the latest 2010 video, the competitive eater gobbled a burrito in just 35.26 seconds!
We guess the gluttony helped a lot! But more on that later.
We hope you enjoyed reading about Fun Facts about Burritos a lot. Will be back soon with facts about other things in the world.