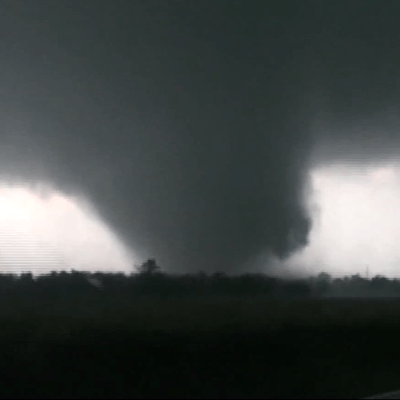 The Daulapur-Saturia Tornado is the most infamous tornado in world history. It occurred in the Manikganj District in Bangladesh on April 26th, 1989. It's currently the worst tornadic event in world history. It holds the record for the most fatalities from a single tornado. An estimated 1,300 people lost their lives to this deadly tornado. The death toll was high due to the tornado striking one of the poorest areas of Bangladesh.
The actual death toll isn't known because most of the fatalities were poor and the event was poorly documented by authorities. However, if you look at pictures of the devastation, it's not hard to believe the death toll could be that high. Below you'll find facts about the 1989 Daulapur-Saturia Tornado, tornado records that it holds and pictures of the damage that it caused. Feel free to contact us if you come across any new research on this historic tornado.
10 Daulapur-Saturia Tornado Facts
The 1989 Daulapur-Saturia Tornado occurred on April 26th, 1989.
It's estimated that this tornado reached F5 wind speeds, but it wasn't officially rated.
It traveled about 50 miles (80 kilometers) while it was on the ground.
The width of this tornado was about 1 mile (1.5 kilometers) wide, but at one point this torando reached a width of 1.5 miles (2.5 kilometers).
It affected the Manikganj District in Bangladesh.
It's estimated to have caused about 1,300 fatalities, 12,000+ injuries and left over 80,000 people homeless.
There is no official estimate of the damage it caused due to how poor the area was that it hit.
All the homes in a 2.3 square mile (6 square kilometers) were destroyed completely.
This tornado was part of a tornado outbreak.
The area this tornado struck was experiencing a severe drought over the last 6 months.
3 Daulapur-Saturia Tornado Records
Below is a list of records the 1989 Daulapur-Saturia Tornado set and still holds as of 02-01-2020.
The Daulapur-Saturia Tornado is widely believed to be the deadliest tornado in world history.
It is the deadliest tornado in Bangladesh history.
It is estimated to have killed 1,300+ people almost double the amount of fatalities from the second deadliest tornado.
Daulapur-Saturia Tornado Tornado Pictures
Below are some jaw dropping pictures of damaged caused by the Daulapur-Saturia Tornado.
A picture of damage from the Daulapur-Saturia Tornado.Credit: David L. Nelson
A picture of damage from the Daulapur-Saturia Tornado.Credit: David L. Nelson
A picture of damage from the Daulapur-Saturia Tornado.Credit: David L. Nelson
A picture of damage from the Daulapur-Saturia Tornado.Credit: David L. Nelson
A picture of damage from the Daulapur-Saturia Tornado.Credit: David L. Nelson
A picture of damage from the Daulapur-Saturia Tornado.Credit: David L. Nelson