Species: Tyrannosaurus rex
Catalog Number: FMNH PR 2081
Discovered on: August 12th, 1990
Discovered by: Susan Hendrickson
Discovered at: Cheyenne River Indian Reservation, South Dakota, U.S.
Bulk Recovered: +90%
13 Sue (FMNH PR 2081) Tyrannosaurus Rex Facts
Sue is the nickname for a famous Tyrannosaurs Rex fossil specimen.
Sue was discovered by Susan Hendrickson on August 12th, 1990, at the Cheyenne River Indian Reservation, South Dakota in the United States.
Sue is one of the best fossilized Tyrannosaurs Rex specimens in the world.
An estimated 90% of Sue's bulk was recovered during excavation and recovery.


The official catalog number for Sue is FMNH PR 2018.
A huge legal dispute was fought over who owned Sue's remains. It resulted in a long, drawn out court case and a raid by the FBI and the South Dakota National Guard.
Sue was 40 feet (12.3 meters) long and estimated to have weighed between 9.2 and 15.4 tons (8.4 and 14 metric tons).
Sue was estimated to be 28 years old around the time when it died and was considered the oldest know Tyrannosaurs Rex until the discovery of Trix in 2013.
While Sue is the nickname of FMNH PR 2018, the actual sex of the specimen is unknown.
Sue is on permanent display in the Evolving Planet exhibit at The Field Museum in Chicago, Illinois.
The actual skull recovered could not be mounted on the exhibit, so a cast of Sue's skull was used and the actual skull is on display separately.
Sue holds the record for the highest amount paid for a fossil dinosaur. In 1997, The Field Museum in Chicago paid $8.3 million for Sue in an auction.
Sue was unveiled to more than 10,000 visitors on May 17th, 2000, at The Field Museum in Chicago, Illinois.
Pictures of Sue (FMNH PR 2081)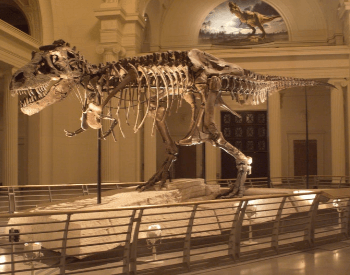 A picture of Sue's full body (Specimen FMNH PR 2081).Credit: The Field Museum
A picture of Sue's skull (Specimen FMNH PR 2081).Credit: The Field Museum
A picture of Sue Hendrickson next to where she discovered Sue.Credit: The Black Hills Institute
Additional Resources on Sue (FMNH PR 2081)