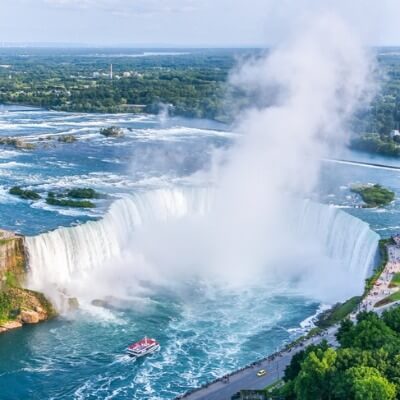 Waterfall Name: Niagara Falls
Type of Waterfall: Cataract Waterfall
Waterfall Height: 167 Feet
Total Drops: 3
Location: Canada and United States, North America
GPS Cordinates: 43.0799°N 79.0747°W
20 Niagara Falls Facts for Kids
Niagara Falls is a waterfall in both Canada and the United States, North America.
Niagara Falls is most well-known for being one of the most popular waterfall tourist destinations.
Niagara Falls is a cataract type of waterfall. A cataract is a very powerful waterfall.
Niagara Falls is part of the watercourse for the Niagara River.
The Niagara River starts at Lake Erie and flows into Lake Ontario.
It's estimated that Niagara Falls started to form between 10,000 and 12,500 years ago.
The first European to discover Niagara Falls was French explorer Samuel de Champlain in the early 17th century. Both he and other members of his party described seeing spectacular waterfalls.
The highest point of the Niagara Falls waterfall is 167 feet.
The water flow rate at Niagara Falls is about 80,000 cubic feet per second.
Niagara Falls has three different water drops.
The three different water drops of Niagara Falls are called the American Falls, Bridal Veil Falls and Horseshoe Falls.
The Bridal Veil Falls is the smallest water drop of Niagara Falls.
The American Falls is the second strongest water drop of Niagara Falls.
The Horseshoe Falls is the strongest water drop of Niagara Falls.
The Horseshoe Falls of Niagara Falls is the most powerful waterfall in North America.
A boat tour called the Maid of the Mist has been bring tourists close to the Niagara Falls since 1848.
In 1829, the first of many daredevils did stunts at Niagara Falls. American daredevil Sam Patch jumped into the gorge from a tower, he survived.
In 1848, Niagara Falls stopped flowing for several hours after a natural ice jam was created up the river.
In 1901, American schoolteacher Annie Edson Taylor was the first person to go over the falls, she survived.
In 1969, part of water flow was stopped at Niagara Falls to evaluate changes to the American Falls.
Pictures of Niagara Falls Waterfall
A picture of the edge of Niagara Falls waterfall.
A picture of a boat near Niagara Falls waterfall.
A picture of tourists at Niagara Falls waterfall.
Additional Resources on the Niagara Falls Waterfall