Name: Mae C. Jemison
Born: October 17th, 1956
Died: Alive today
Education: Stanford University
Space Agency: NASA
Missions: STS-47
17 Mae Jemison Facts for Kids
Mae Jemison was an American astronaut with the National Aeronautics and Space Administration (NASA).
Mae Jemison was 1 of 15 people selected to join NASA in the 1987 NASA Astronaut Group 12.
Mae Jemison was born on Wednesday, October 17th, 1956 in Decatur, Alabama, USA.
Mae Jemison was the daughter of Charlie Jemison and Dorothy Jemison.


Mae Jemison graduated from Stanford University with a Bachelor of Science degree in chemical engineering in 1977.
Mae Jemison earned her M.D. degree from Cornell Medical School in 1981.
Mae Jemison is best known for being the first African American to travel into outer space.
Mae Jemison was a part of one human spaceflight mission, STS-47.
STS-47 was a Space Shuttle mission to conduct life and material science experiments via the Space Shuttle Endeavour.
The STS-47 Space Shuttle mission occurred between September 12th and 20th in 1992.
Mae Jemison spent a total of 7 days, 22 hours, 30 minutes and 23 seconds in space.
Mae Jemison resigned from NASA in 1993 to start her own company.
Between 1983 and 1985 Mae Jemison was a doctor in the Peace Corps, serving in Liberia and Sierra Leone.
In 1993, Mae Jemison appeared in an episode of Star Trek: The Next Generation, Second Chances, the 150th episode.
In 1993, Mae Jemison was inducted into the National Women's Hall of Fame.
In 2017, Mae Jemison received the Buzz Aldrin Space Pioneer Award.
Mae Jemison holds 10 honorary doctorates at 10 different colleges.
Mae Jemison Pictures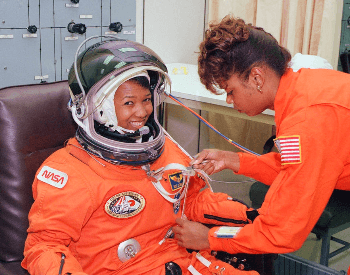 A photo of Mae Jemison sutting up for the STS-47 Space Shuttle mission.Credit: NASA
A photo of Mae Jemison aboard the Space Shuttle Endeavour during STS-47.Credit: NASA
A photo of Mae Jemison speaking with a second grader at an event.Credit: Anne Rayner / Vanderbilt
Additional Resources to Research Mae Jemison