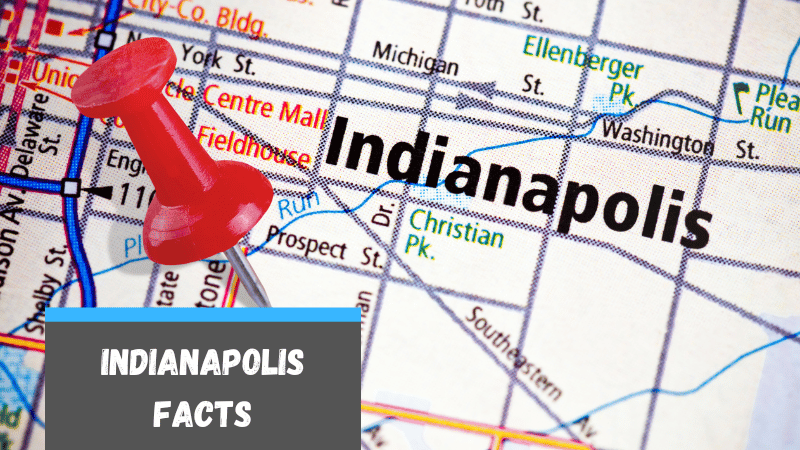 "Interested in Indianapolis? Have you ever questioned what gives the city its pulse in addition to its frantic reputation? Explore 32 facts that reveal Indianapolis' history, hidden gems, and joyful spirit."
Welcome to Indianapolis, the centre of Indiana, in the Midwestern region of the United States. This thriving city has undiscovered treasures, fascinating history, and a vibrant culture.
Its significance in the Civil War and ties to Abraham Lincoln make Indy's rich history a delight for history buffs.
As you stroll through the historic districts, you will come across architectural wonders like the Soldiers and Sailors Monument, evidence of the city's respect for its history.
Indianapolis' cultural scene thrives in areas like Mass Avenue, where art, music, and theater meld harmoniously.
Unique museums like the Indianapolis Motor Speedway Museum offer an exciting twist.
These 32 facts about Indianapolis are just the tip of the iceberg; we encourage you to learn more about the city's vibrant fusion of history and modernity.
32 Interesting Facts About Indianapolis
1. Ingeniously dubbed the "City of Indiana," the name "Indianapolis" combines the terms "Indiana" and "polis" from Greek.
2. Indianapolis, the largest and most populated city in Indiana, is in the state's centre and has a thriving population of over 800,000.
3. With a capacity to hold an astounding 400,000 spectators during major events like the venerable Indy 500, the sprawling Indianapolis Motor Speedway, which stretches across an astounding 253 acres, holds the title of largest sports venue globally.
4. With attractions like the renowned Indianapolis Zoo and the perplexing Eiteljorg Museum, White River State Park's tranquil 250-acre green space embracing the White River enchants nature lovers and culture enthusiasts.
5. Sports fans adore the NCAA Hall of Champions, an interactive museum highlighting college athletes' motivational journeys and triumphs in various sports.
6. The Soldiers and Sailors Monument, which proudly stands 284 feet tall and honors Indiana's Civil War veterans, commands attention in the downtown landscape and mesmerizes visitors with its neoclassical splendor.
7. Mass Avenue, a thriving cultural district, attracts artists and culture vultures with its theaters, galleries, restaurants, and shops that teem with creative life.
8. The Indianapolis Indians, one of the oldest minor league baseball teams still playing today, evoke the classic allure of America's pastime as baseball nostalgia takes hold.
9. The Old National Centre, formerly the Murat Theatre, is a cultural hub hosting everything from Broadway productions to live concerts.
10. Indianapolis, a hidden hero of the Underground Railroad, served as a haven for runaway slaves, and brave individuals there helped advance the abolitionist cause.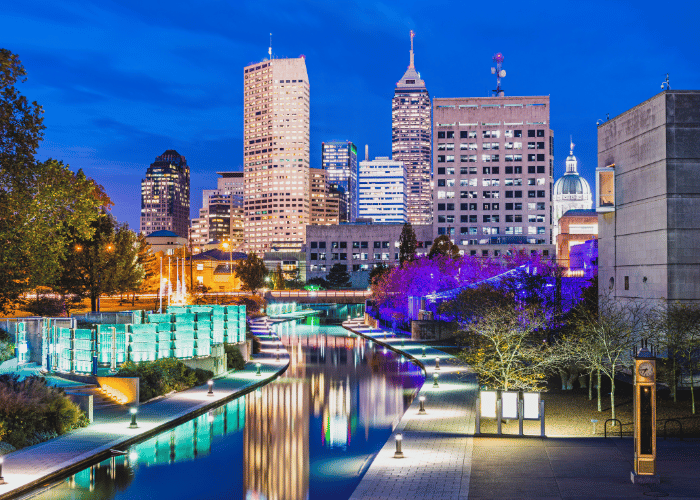 11. The mesmerizing Indianapolis Zoo covers lush terrain, is home to over 1,200 animals representing 230 species, and offers an engaging educational and conservation-focused experience.
12. Indianapolis is credited with hosting the first long-distance automobile race in the United States in 1911, which helped establish the storied Indy 500.
13. The Indianapolis Symphony Orchestra, a cultural landmark that has delighted audiences with classical and modern performances for more than eight decades, bestows the city with enchanting symphonic melodies through the sweet notes of its music.
14. Monument Circle, the hub of the city's activity, captures the spirit of Indianapolis by serving as the site of numerous activities, markets, and gatherings.
15. The Benjamin Harrison Presidential Site serves as a gateway to history, inviting visitors to delve into the nuanced details of the 23rd President of the United States' life through the immaculately preserved residence.
16. Indianapolis' craft beer renaissance has resulted in a proliferation of neighborhood breweries, each serving up distinctive concoctions that tempt beer enthusiasts' taste buds.
17. The Central Canal weaves a picturesque tapestry through the city, luring paddleboats and leisurely promenades along its banks as it transitions from industrial utility to recreational allure.
18. The comprehensive IndyGo public transit system, which links locals and visitors via a vast network of bus routes, makes navigating Indianapolis a breeze.
19. The Indiana Statehouse, the city's political hub and architectural wonder, radiates Greek Revival and American Renaissance influences. It is a model of architectural splendor.
20. Indianapolis' culinary scene is thriving, with a symphony of flavors orchestrated by neighborhood restaurants serving everything from traditional farm-to-table dishes to comforting dishes from the Midwest.
21. Gen Con, a renowned tabletop gaming convention that gathers in Indianapolis and fosters a thriving hub of creativity and camaraderie, brings together geeks and gamers.
22. Offering a picturesque route for cyclists and pedestrians to explore, the Indianapolis Cultural Trail weaves through the city's neighborhoods and cultural districts.
23. Indianapolis establishes itself as a center of healthcare excellence, hosting a collection of premier academic medical centers and research organizations that foster innovations that change people's lives.
24. Indianapolis festivals, from the vibrant Asian Fest to the captivating IndyFringe Festival, showcase customs worldwide in a multicultural mosaic.
25. The Indianapolis Public Library system fosters learning and exploration across its many branches, serving as more than just a knowledge repository.
26. The Indy Fringe Theatre Festival highlights independent and experimental performances, enhancing the city's cultural landscape while celebrating the performing arts in all splendor.
27. Indianapolis is known for more than just its involvement in the auto industry; it has a long history in sports ranging from basketball to football and beyond.
28. The Indianapolis Fire Department Museum, which preserves antique apparatus and honors the courage of firefighters, gives voice to Indianapolis' history of firefighting.
29. Midwest Fashion Week reveals Indianapolis' fashionable tapestry by highlighting local designers and models who give the city a unique sense of style.
30. The Central Canal, a waterway that evokes the allure of Venice's canals, winds through the cityscape, providing a picturesque pathway and a peaceful heaven for relaxation.
31. Since founding in 1972, the Indiana Repertory Theatre has enriched the city's cultural landscape by enthralling audiences with various captivating performances.
32. The downtown Canal Walk invites calm strolls and gondola rides for a stroll, escorting visitors to tranquility amidst the busy city.
Conclusion
Indianapolis captivates with its multifaceted allure in a city where sports, history, and creativity coexist.
The town beckons exploration with its storied racetracks and tranquil parks.
So, whether you are a fan of racing or history or just a curious traveler, Indianapolis promises a trip you will remember that honors its colorful past and present.
As you have explored 32 Indianapolis facts, remember that this city is about more than just the renowned Indy 500; it is also about the modest neighborhood restaurants, the picturesque streets, and the friendly locals.
Indianapolis welcomes you with open arms and infectious energy, whether you are staying for a weekend or a lifetime.